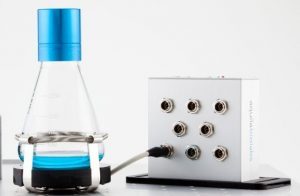 The Cell Growth Quantifier (CGQ) offers non-invasive online monitoring of biomass in shake flasks. Our patented sensors can be installed easily under your shake flask and measure the biomass non-invasively through the wall of the flask.
This enables you to follow the growth of your cultures automatically and in real time.
Experience the advantages of the CGQ system and test one of our CGQ demo devices in your lab:
Get in contact with us and toegther with you we will organize a CGQ demo at your lab.
We will ship one of our CGQ demo devices to you.
Test the CGQ in your lab, on your shaker and for your cultures.

One of our Application Specialists will personally support you during your CGQ demo.
Request your CGQ Demo here